JETS Filmverleih & Vertrieb (Distribution)
The JETS Filmverleih & Vertrieb (Distribution) was founded at the beginning of 2020 to provide a distribution platform in the German-speaking territory for the diverse film projects of the JETS Co-production Initiative and their filmmakers. As part of a collaboration with the production company WEP Productions, JETS Distribution is involved in national and international film projects.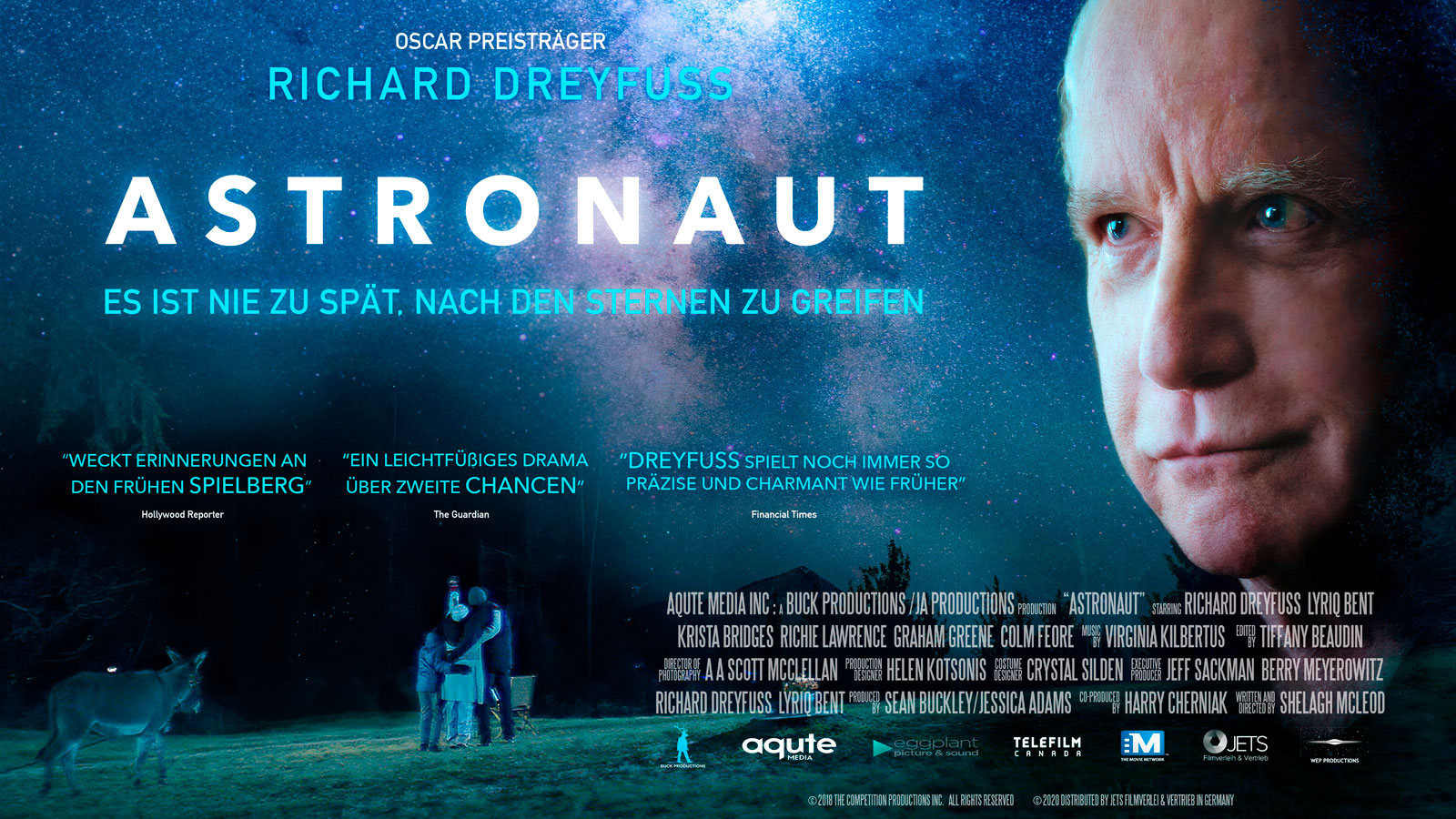 Directors Statement
Population demographics show that there are a greater number of older people alive than in any other time in history. Yet all too frequently old people are forgotten, dismissed, told to 'go quietly.'
Spending many months visiting my mother at a nursing home was a life-changing experience for me. Not only because I was about to lose my mom, but also because the journey from her being an independent woman, to becoming a frail, frightened and overlooked old lady, was a heartbreaking one. In the nursing home garden there was an old man. He sat in his wheelchair, staring up at the sky for hours. One day I asked him, 'What is it that you're looking for up there...?' 'Another go...' he said.
This conversation became the genesis for Astronaut. Angus still has hopes and aspirations just like any teenager – the only difference? His body is failing him, and to win the golden ticket for a trip to space, he is going to need a little help.
Old people don't go quietly, they fight to be heard. Yet the elderly are a marginalized section of society, they are not listened to. Many of my characters in my stories are in the position of the underdog. Whether it's by taking on a corporation when unfairly dismissed, or finding their voice in a society that doesn't listen – or just someone who wants to 'matter.'
It is our dearest wish that this story will offer a vision of hope and provide an uplifting message to families universally: that if we support one another, we can all achieve our seemingly impossible dreams regardless of our age and, in so doing, make our own metaphorical journey to the stars.
Astronaut is a deeply personal story, and one that I feel is timely and I hope will resonate with a universal audience. Because we are all on a one-way journey – and what if we could, at our bleakest moment, perhaps the end of our life, take the trip of our dreams and have another go?
Click Here to Receive a Press Kit
Angus's long extinguished dream is reignited when a national competition is announced. The prize? One ticket for a trip to space! Way over the age-limit, Angus fudges his birthdate, and enters the competition. Against all odds, he must battle against prejudice, ill health and time, to win the ticket and take the trip of his dreams.